Your fire detection and alarm system has been sitting there quietly for many, many years. It's been doing its job, you probably test it once a week. It works. It is so ingrained in the fabric of the building you hardly notice it is there. That's wonderful.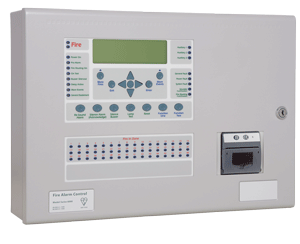 But nothing lasts forever. As fire alarm systems get older, issues start to arise. Maybe you are experiencing too many false alarms. Perhaps your system is proving difficult to manage, maybe it is hard to pinpoint the cause of problems. You may be experiencing fault conditions that are proving expensive and time consuming to repair.
Or maybe it is you that has changed? If your premises have expanded your system may not have the capacity to cope. Or if you want to change your fire procedures, you need a more sophisticated alarm system to accommodate this. Perhaps, it simply that your latest fire safety risk assessment shows that your fire alarm system is simply inadequate to guarantee the safety of the occupants of your building in the event of an emergency.
However you come to the conclusion, the realisation that you really do need to upgrade your ageing system can cause major headaches, especially when we are talking about an operational building. If you are in a position to close your premises down for a while, maybe for a complete refurbishment, then it's not a problem. The installation of a brand new system will naturally form part of that operation, and new wiring will again be built into the fabric of the building. But, what if that is not the case? What if you need to upgrade your fire detection and alarm system without seriously disrupting the day to day operation of your business?
This is where a genuine fire systems specialist comes in. With careful consideration of the individual situation, coupled with an in depth knowledge of the wide variety of solutions on the market today, it is possible, and preferable, to come up with alternatives to the "start from scratch" approach. But you need the right mentality as well as the right expertise, because, frankly, the "let's just install a new system from scratch" is the simplest solution (for the contractor!), but from your point of view, it probably isn't the most economical, practical, or feasible one.
Options may include re-using some (or even most) of the existing wiring; creating interlinked sub-systems; using wireless technology for part, or even most, of the new system. There are many options and many different technologies available, but it does require a specialist to understand how to put it all together and manage the project so it comes together in the most efficient, most cost effective and least disruptive manner.
It's a complex situation. Careful planning is required to minimise disruption. Empathy for existing circumstances and the nature of the premises and the business within it is essential, including an understanding of the impact of any works on your day to day operations, and more, the potential impact on existing fire safety arrangements. It has to be right.
The first step is to find a specialist contractor with genuine experience and expertise in this kind of project and discuss all the options. With the right company, you may be pleasantly surprised to find the whole process is easier, less disruptive and cheaper than you originally thought. And you may be even more pleasantly surprised to discover just how great the benefits of a modern technology system are!
If you are thinking "Hmm, now where can I find a company just like that?", then maybe you don't need to look too far….